Families Handbook
Family Day Care Coordination Unit
Family Day Care Office Hours:
Monday to Friday 8.30am – 5.30pm
Welcome
Ignite Minds Family Pty. Ltd. would like to warmly welcome you and your family to our service and look forward to an enriching relationship. This families handbook provides you with an overview of how Family Day Care operates, services provided and important information you may need to ensure effective communication amongst all stakeholders (Educators, families, coordination staff and the community at large.)
If you have any queries, please do not hesitate to contact the Coordination Unit. The office is manned in business hours.
Aims of the Service
To provide a high quality, accessible and affordable home-based education and care childcare alternative which is relevant and responsive to the needs of families and the community;
To promote the cognitive, physical, social and emotional development of each child by recognising and accepting their individuality;
To build a relationship based on trust amongst staff, Educators and families;
To provide children with quality care inclusive of their culture, religion, disability and gender;
To provide opportunities for family involvement in the service; and
To utilise existing resources in the community, including people with knowledge, skills and experience in childcare, to provide a culturally relevant service.
General Information
Ignite Minds Family Pty. Ltd. is responsible for the operation of the service, which is partially funded by the Department of Education, formally (DEEWR) and regulated by the Victorian Department of Education and Early Childhood Development in line with the Education and Care Services Regulations and Education and Care services Law Act 2010 and National Quality Standards
Family Day Care provides quality child care within a home environment. Registered Educators may be able to provide families with flexible child care arrangements, including:
Full time care;
Part-time care;
Weekend/public holiday care;
Before and after school care;
Emergency care; and
Overnight care.
Educators are selected and registered with Ignite Minds Family Day Care Pty. Ltd. Service and care for a maximum of 4 children under school age or 7 children under the age of 12 years. Child placements with Educators are organised and supported by the Family Day Care staff.
Who is the Coordination Unit
The Coordination Unit consists of a Managing Director, Coordinator's, Educational Leader, Child Development Officer, Administration Officer, Field workers, CCM administrator.
Staff from the Coordination Unit:
Visit Educators' homes regularly to support and assist Educators on providing experiences and child friendly routines for children;
Working closely with educators monitor the development of each child, through observations and appropriate programming;
Be available to provide regular reports on children's progress, through home visit reports, notes, phone calls and meetings;
Assist Educators by providing them with training and risk assessment tools to monitor safety within the home and on excursions;
Provide training for Educators, staff and families, including sessions on mandatory regulatory requirements e.g. regulations, child protection, workplace health and safety.
Provide professional resources;
Conduct play sessions regularly. Play sessions provide a range of activities such as craft, music, sand and water play and language experiences. Play sessions provide children with an opportunity to socialise with other children in a larger group and Educators and staff with an opportunity to exchange information and gain new ideas and resources;
Provide regular newsletters for both families and educators.
Ensure the safety of Educators homes.
Confidentiality and Freedom of Information
All information collected regarding families, parents/guardians and their children is kept confidential and in accordance to State and Commonwealth privacy legislation. Permission is sought prior to, from the parents/guardians for any information shared regarding the family and child, where necessary. As a government service, Family Day Care is obligated under the Freedom of Information Act to allow clients access to their personal records, upon request. Information is only collected and used for the benefit of the children in education and care.
Priority of Access
The Commonwealth Government funds child care with a major purpose of meeting the child care needs of families. Where the demand for child care exceeds the available Child Care Benefit (CCB) places, the Family Assistance legislation requires that child care services allocate places to families with the greatest need for child care.
The categories for priority for child care are:
First priority - Child at risk of serious abuse or neglect;
Second priority - Single parent, or parent/s who's work/training/study meets the test under Section 14 of the Family Assistance Act; and
Third priority - any other child
Where a service has no vacant places and is providing care for a child who is third priority under the Priority of Access, the service may require that the child leave the service in order for the service to provide a place for a higher priority child.
Anaphylaxis, Asthma and other on-going medical conditions
The service is committed to providing safe and secure care and education for all children and to this end we have a number of policies which are directly concerned with children's health. All medical issues are addressed on an individual basis but we have policies and procedures which offers guidance for Educators and Coordination unit staff in ensuring the health and safety of all who use our services. Families who have a child with anaphylaxis, asthma or other ongoing medical condition will need to provide a plan of action, written by a medical practitioner which explains actions to be taken in the case of an emergency. These plans must be reviewed on a 6 monthly basis.
Fees and Child Care Benefit Child Care Rebate
Ignite minds takes our responsibility to keep our fees as low as possible very seriously. Our administration fees do not include bank charges as they are not equal to all families, so we have chosen to pass on the exact charges so that families are only charged for fees associated with their transactions. We provide families with 2 payment methods as both methods are integrated with our IT systems and reduce the labour costs and our charges to you.
Each educator sets their own rate and this is published on their listing on our site. Their rates are populated in your agreement and declarations when you enroll.
Depending on your payment method below, you will also have the following additional fees.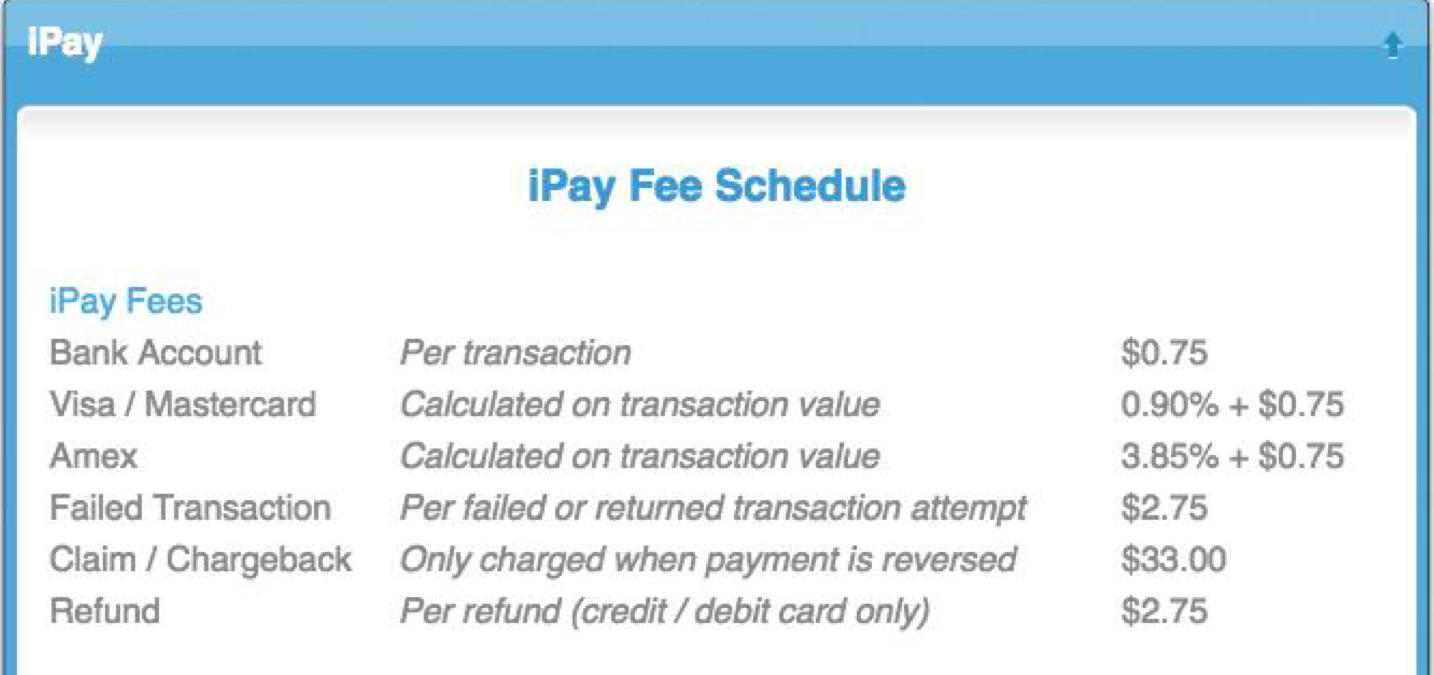 We are not able to accept any other form of payment at this stage.
Child care fees are to be paid each fortnight when care commences via nominated payment method. Fees are calculated on booked hours (each Educator has a minimum of hours to be booked). If you wish to make any changes to your child's booked hours please ensure you discuss this with your Educator and then contact the Coordination Unit. Fees are inclusive of an administration levy, which is payable to the service by the Educator. Although Educators are self-employed, their fees are paid to them from the service and this includes the gap fee for which families are responsible. Any debt accumulated will be addressed by the management. Two weeks late and all fees will become payable in advance, 4 weeks late and care for the child will cease.
Child Care Benefit (CCB)
CCB is available to families through the Family Assistance Office (FAO) and it is recommended that families contact the FAO prior to commencing care. To apply for CCB you need to complete an application form and submit it to FAO (Centrelink).
Child Care Rebate (CCR)
CCR is Part of the Government's Choices for families policy. CCR covers up to 50% of out of pocket childcare fees. Families are offered a choice of how they wish to be paid the CCR. We would like to respectfully ask families to take option 3 offered to them and have the childcare rebate paid directly to the service. This will reduce the gap fee for the families and the fortnightly out of pocket expenses
Absences and Child Care Benefit
Each financial year families receive an entitlement of 42 allowable absences per child (not per child care service) from FAO. Please note that if you have a child in both Family Day Care and another service (centre-based care or outside school hours), you will need to monitor absences to ensure that the 42-day limit is not exceeded. Once your limit is exceeded, full fees for absent days are applicable, unless documentation is provided such as a medical certificate.
Further information is available from FAO, phone 136 150 (free call).
Fee and Charges
Each individual Educator is required to publish their own fees. Please ensure you are aware of the hourly charge rate, any minimum booking duration and any late fees or aditional fees applicable when you meet your educator.
Ignite Minds ensures all fees are consistant accross all educator families - for example, if the charge rate is $15 per hour with a minimum of 10 hours, all families will be charged the same rate. Ignite Minds collects money from parents on behalf of educators - families are not allowed to pay educators any additional fees. Where families default on payments, Ignite Mind will engage debt collectors on behalf of the educator and families will meet any additional fees that may apply.
If your child regular care arrangement falls on a public holiday you will still be charged even if your educators service is closed. Where an educator is sick or on holiday you will not be charged or will be refunded if you have pre-paid.
All fees are charged 2 weeks in advance. This is a non-refundable pre-payment in replace of a bond.
Operating Hours
Ignite Minds office hours are 8am till 4pm.
Educators set their own operating hours. Please discuss your requirements with your prospective educator.
Early/Late fees: Educators determine their own early/late fees. Early/late charges are not eligible for Ignite Minds Family Day Care Pty.Ltd Service.Care used that is not covered by the agreed hour's contract. This fees does not attract the Childcare Benefit.
Full fee is applicable for Public Holidays, holidays, absences and when child is sick. Contracted days are not interchangeable, additional days needed must be paid for.
Fees are subject to change and reviewed on an annual basis.
Explanation of Fees
Fees (Cost of Care)
These fees are paid by you directly to the service and are calculated on the contracted hours of care used. The permanent hourly rates listed on the schedule apply between the hours of
8.30am-5.30pm (known as the core hours). Please note that it is the Educator's right to refuse care to a family whose fees are in arrears for more than two (2) weeks.
Early/Late Fee
Educators are able to determine their own fees for care outside of a child's booked hours without notice. This is a fee charged to you, if you drop off earlier or pick up later than your contracted hours. Child Care Benefit does not apply to early/late fees.
Casual Care
Casual care is defined as additional hours and/or days booked with the Educator in advance. Casual fees will be charged if casual care booked is cancelled with less than 24 hours notice to the Educator.
Receipts
All fees paid will be receipted from the administration team. Please keep all receipts for reference and tax purposes.
Absences
Please call the Educator before 9.00am if your child will not be attending care that day. A medical certificate may be requested by the service if your child is returning to care after an infectious illness. Your Educator needs to be informed before 9.00 am if you are going to be late dropping off your child. If you are going to be late collecting your child please let the educator know as early as possible.
Public Holidays
The normal rates/fees apply for public holidays if your child is booked to attend on that day. If care is required on a public holiday, an arrangement must be made with the Educator and Coordination Unit one (1) week in advance. Care used on a Public Holiday will be charged at a rate determined by the Educator $1.50 per hour above the normal hourly rate.
Planned Holidays
Please provide two (2) weeks' notice to your Educator and Coordination Unit of your intention to take holidays. A 'Notification of Holidays' form is available from the office or your Educator.
Educator Holidays
Four (4) weeks notice will be given to you prior to the Educator taking holidays. No fees are payable during Educator holidays. Alternate care can be arranged (where possible) for your child during Educator holidays.
Educator Illness
It is the Educator's responsibility to inform the families if they are unable to work due to illness. Families requiring alternate care are asked to contact the Coordination Unit as soon as possible. In the event of the Educator falling ill overnight, the Educator will inform all the families and the coordination unit a.s.a.p. Families will then be contacted via the coordination unit to see if they require alternative care and suitable arrangements will be made if at all possible.
The Coordinator is available to Educators for emergencies on the mobile number given outside of office hours.
Changes in Contracted Hours
Any changes in hours or days are not transferable to another day, e.g. if your contracted days are Monday and Tuesday and the Monday falls on a public holiday you cannot 'swap' this day for a Wednesday. If you wish to use care for an extra day you will be subsequently charged the additional fee. Any changes in contracted hours must be negotiated with your Educator, and the service.
Terminating Care
Written notice of leaving Family Day Care must be given two (2) calendar weeks in advance to the Educator and Coordination Unit, or two (2) weeks fees will be payable in lieu of notice. Please note that Child Care Benefit is not available on fees paid in lieu of notice. CCB absents cannot be used in lieu of notice.
Attendance Records
Parents/guardians must sign their children in care at the time of arrival and departure each day. Parents/guardians must also ensure they sign attendance records for all full day absences with an explanation (i.e. sick, holidays, away, RDO, public holiday etc).
Child Care Benefit will not be paid if attendance records are not signed and full fees will be payable as directed by the Family Assistance Office.
When your Child Starts Care
Communication between yourselves and the Educator is one of the most important aspects of successful care. As your child develops and their needs change, it is most important to regularly discuss these changes. Talk to the Educator about your child's day and his/her experiences whilst in care.
Discuss with the Educator your child's routines and preferences. Ask the Educator what they do during the day. Some Educators are regularly committed to outside activities (e.g. playgroups, school drop off and pickups, visits to the library for story telling sessions). Discuss with the Educator what range of activities they participate in throughout the year.
Meals
Please remember to pack a nutritious morning tea, lunch and afternoon tea, giving consideration to the changing likes and dislikes of your child and the quantity of food your child may eat, (allowing room for choices) and the length of your child's day in care. Ignite Minds Family Day Care Pty. Ltd. Service has a nutrition policy and provides information and ideas for convenient meals to pack for child care through newsletters.
Clothing
When dressing your child, consider clothing and footwear which allows freedom of movement for climbing, running, painting and messy play. Thongs are not suitable footwear for children. A sun hat and sunscreen are essential all year. The sun safety policy provides more information about this.
Please provide a change of clothing every day for your child.
Rest time/ Sleeping
Please discuss your child's sleeping routine with the Educator. Look at where your child will be resting/ sleeping and discuss this with the Educator.
Toileting
If your child is in nappies you will need to provide adequate supply of nappies, lotions etc each day. Discuss what stage your child has reached with their toileting so that there is a consistent approach to toileting between home and care. The Coordinator can provide information and support with toilet training.
Behaviour Guidance
We aim to provide an environment which is safe, secure and consistent for young children. As behavioural expectations and child rearing practices vary greatly among different cultures and social groupings, our scheme takes into consideration the families using the service. We aim to use a positive approach to behaviour guidance so that it does not impair self esteem but allows children to feel capable and competent, encouraging their ability to interact with others. Our approach praises and acknowledges caring, cooperative, desirable behaviour.
Separation Anxiety
Separation anxiety is a natural response children have when they lose sight of and are separated from their Parents/guardians. It is a fear that they feel and they express this feeling by being unsettled, crying and for some children, feeling panic stricken. Therefore, this can be a very stressful time for the child and parent /guardian when a child goes into a new environment.
Farewells may be filled with guilt, confusion and tears. Be assured that separation anxiety is a stage that some children experience and with support and reassurance it does pass.
The following suggestions may help the transition into care a positive experience for both you and your child.
Settling Children into Care
It can be helpful to familiarise your child with Educator and his/ her home before care actually begins. Educators are only too happy for you to visit and may agree for you to leave your child for shorter days to begin with.
Be confident and positive yourself - your own anxiety can easily be transferred onto your child. Accept that your child may take some time to settle into care, however, they will soon learn the 'going' is always followed by 'coming back'.
Generally, children settle into care more confidently if you can follow the same routine and keep changes to a minimum.
Try to avoid introducing further changes in your child's new routine. Delay weaning off bottles and dummies and attempts at toilet training while your child settles into care.
Try not to delay your parting. Settle your child with your Educator. Once you are prepared to leave, tell your child that you are leaving and that you will be coming back to pick them up. Say goodbye and go. Never sneak out of the door while your child is temporarily distracted. It may seem to work in the short term but in the long term your child will feel that you cannot be trusted and may become more dependant and clingy around you.
Try to arrive a little before time or on time when collecting your child from care.
A security item/toy (e.g. a favourite teddy) may help your child feel more secure and will be a comfort when you are not there.
Keep open communication with your Educator; discuss concerns no matter how small. You may wish to arrange a suitable time to phone the Educator through the day to discuss how your child is.
If you are feeling concerned and anxious about anything at all, please phone the Coordination Unit. We are happy to discuss your concerns and help in any way we can.
Policies and Procedures
Educators are provided with the complete policies and procedures manual, which parents/guardians are welcome to access. Please refer to these for further clarification, and contact the Coordination Unit to discuss, if required. The policies are updated regularly, and feedback on policies is sought from Educators and families through newsletters, parent/guardian/Educator/community committee meetings and postal mail outs. There is a list of policies and procedures available at the back of this handbook. Parents are able to access any information relating to their child/ren i.e. accident, medication, development records.
Child Protection
It is mandatory for staff and Educators to notify suspected abuse and neglect of children to the Department of Community Services. Educators and staff have been trained in issues relating to Child Protection. Ignite Minds Family Day Care Pty.Ltd. Service has a Child Protection Policy that identifies the types of abuse and outlines staff and Educator responsibilities.
Grievance/ Complaints
What do you do if you have a grievance/complaint?
If you have a complaint please discuss it first with the Educator.
If the matter is not resolved to your satisfaction, contact the Family Day Care Coordination Unit on 90361504
We have a Grievance/Complaints Procedure that supports and guides this process. Alternatively the North Western Victorian Region, Department of Education and Early Childhood Development can be contacted at:
North Western Victorian Region
Postal address: PO Box 442, Bendigo, Victoria 3552
Location: 7-15 McLaren Street, Bendigo, Victoria 3550
Phone: (03) 5440 3111
Fax: (03) 5442 5321
Confidentiality and Retention of Records
Ignite Minds Family Day Care Pty. Ltd. Service protects the privacy and confidentiality of individuals by ensuring that all records and information about individual children, families, Educators, staff and management are kept in a secure place and are only accessed by or disclosed to those people who need their information to fulfil their responsibilities at the scheme, or people who have a legal right to know.
Medical authorisation (parent permission and doctors instructions) - Documents are retained for 2 years at the service, and then till child reaches 25 years of age.
Nature and circumstances of any injury to the child while being provided with the service - Documents are retained for 2 years at the service, and then till child reaches 25 years of age.
Particulars of treatment given to the child (Accident book) - Documents are retained for 2 years at the service, and then till the child reaches 25 years of age.
Attendance records and programs, development records/routines must be kept at the service for 12 months then archived.
Records must be available for the Director General (if required) within 1 week.
Access/ Contact - Custody
In cases where custody of children has been awarded by a court to one or other parent/guardian and restriction access or no access has been specified, a certified copy of the court order must be given to the Educator and the Coordination Unit. A certified copy is also kept on file with the child's records at the Coordination Unit.
If a custody order prohibiting access by a parent exists but has not been supplied to the service, the parent cannot be denied access to his/her child
Only custodial parents or authorised persons may collect children from the Educator.
Where an unauthorised person attempts to take the child from the Educator's home, the Educator should follow the steps outlined:
Under no circumstances should the child be allowed to leave the premises;
The person should be asked to wait outside while the Educator phones the custodial parent;
The Educator should contact the Coordination Unit;
Under no circumstances should Educators risk physical injury; and
In cases where the unauthorised person becomes violent or overly aggressive, the police should be called.
Excursions
Excursions provide an opportunity for children to engage in meaningful ways with their communities. Excursions are an integral part of Family Day Care. Excursions are either routine or non-routine. Excursions require careful planning to ensure that children will be safe, a risk assessment management plan will be done for each and every excursion. Children are offered excursions which are appropriate to their age and developmental level.
Routine Excursions
Routine excursions may include trips to local parks, shopping centres, other Educator's homes, libraries, schools, gym or play session.
Parents/guardians are notified of the Educator's regular outings;
Parents/guardians are advised and written permission is obtained from any excursions which take place out of the educators home.
Educators always carry a current list of parent/guardian contact and Coordination Unit telephone numbers;
Educators take adequate and appropriate food, drink, clothing and equipment for all children;
Educators are not permitted to take children to do their weekly grocery shopping;
Educators will make every effort to be contactable during excursions, e.g. providing parents/ guardians with mobile numbers.
This policy is always under review as per 'Quality Improvements Systems'.
Non Routine Excursions
In the event of a non-routine excursion, written authorisation must be obtained from a parent/ guardian. The authorisation must state the following:
The date of the excursion;
The proposed destination;
The method of transport or walking itinerary;
The activities to be carried out during the excursion;
The number of adults to accompany and supervise the children;
The name of the person with first aid qualifications who will accompany the children on the excursion and a first aid kit is taken;
The proposed period of time during which the excursion is to take place;
If possible, an emergency contact number for the excursion.
Excursions to the beaches or swimming pools are classified as high risks therefore are not an excursion option.
Transport
Educators in the course of their day may use a vehicle to transport children.
When planning excursions the Educator must ensure supervision, safety and well being of all children in care are taken into account; and
Children must never be left unattended in a car.
When transporting children, Educators must ensure that:
Each child is correctly seated in an appropriate and approved child seat or restraint suitable to the child's age, size or other special requirements if any;
All car seats meet the required safety standards by taking their car annually to an RTA authorised fitting station; and
All vehicles are currently registered and appropriately insured.
Health and Hygiene
Ignite Minds Family Day Care Pty. Ltd. values Hygiene and Good health at all our services and we recommend the washing of hands when taking children into care and as the children go home at the end of their day: (research from the RCH proves that this is the most effective way to reduce infections in all children's services.)
Sick Children
Educators are unable to care for children suffering from a contagious illness or high temperature (38 degrees or more);
Unwell children will not be readmitted to care until fully recovered and no longer infectious;
If the child has commenced on a course of antibiotics, they will not be permitted to re enter care for at least 24 hours to allow the medication time to take effect;
When a child arrives in care and does not appear well enough to be in attendance, the Educator will ask the parent/guardian to take the child home;
The Educator will retain the right to exclude any child who is obviously unwell or is regarded as a health risk to other children;
Parents are asked to notify the service, within 24 hours, if the child has been diagnosed with any communicable disease/infectious condition;
If a child needs to be excluded due to a contagious illness, the parent needs to be notified to collect their child as soon as possible.
Any diarrhea, vomiting or high temperature must be clear for at least 24 hours before returning to care to prevent the passing on of infection to other children and staff. A written clearance from a Doctor may be required before a child can return.
In the case of a child requiring immediate professional medical or dental attention, the Educator will contact you or your nominated emergency contact person, if you are not available. If, in the opinion of the Educator, you child needs immediate medical attention, your child may be taken by ambulance to hospital.
Infectious Diseases
All parents need to be informed if an infectious disease has been diagnosed in their Educator's household or amongst the children in his/her care. Children found to have an infectious disease will be excluded from care until they are no longer contagious. A medical certificate will be required before returning to care.
Notifiable infectious diseases are included in Schedule 3 of the Health (Infectious Diseases) Regulations 2001 and are divided into four groups on the basis of the method of notification and the information required. Notification forms are available from the Department: Telephone 1300 651 160 Or print or order online at
www.health.vic.gov.au/ideas. All notifications and related inquiries should be directed to:
Communicable Diseases Section
Public Health Group
Department of Human Services
Reply Paid 65937
Melbourne VIC 8060
Telephone 1300 651 160
Facsimile 1300 651 170
For urgent notifications after hours: Contact the Duty Medical Officer via pager service 13 22 22 and quote pager number 46870
Exclusion of sick children
Children suffering from an infectious illness or who come into contact with an infectious illness will be excluded from care according to the guidelines following:
Condition
Exclusion of Cases
Exclusion of contacts

Amoebiasis (Entamoeba histolytica)

Exclude until diarrhoea ceases

Not excluded

Campylobacter

Exclude until diarrhoea has ceased

Not excluded

Chickenpox

Exclude for at least five days AND until all blisters have dried

Any child with an immune deficiency (for example, leukaemia) or receiving chemotherapy should be excluded for their own protection. Otherwise not excluded.

Conjunctivitis

Exclude until discharge from eyes has ceased

Not excluded

Cytomegalovirus Infection

Exclusion not necessary

Not excluded

Diarrhoea

Exclude until diarrhoea has ceased.

Not excluded

Glandular fever

(mononucleosis)

Exclusion is not necessary

Not excluded

Hand, Foot and Mouth disease

Until all blisters have dried

Not excluded

Haemophilus influenza

type b (Hib)

Exclude until medical certificate of recovery is received

Not excluded

Hepatitis A

Exclude until a medical certificate of recovery is received, but not before seven days after the onset of jaundice or illness

Not excluded

Hepatitis B

Exclusion is not necessary

Not excluded

Hepatitis C

Exclusion is not necessary

Not excluded

Herpes (cold sores)

Exclusion is not necessary. Young children unable to comply with good hygiene practices should be excluded while lesion is weeping. Lesions to be covered by dressing,

where possible

Not excluded

Hookworm

Exclusion not necessary

Not excluded

Human immuno-deficiency

virus infection (HIV AIDS

virus)

Exclusion is not necessary unless the childn has a secondary infection

Not excluded

Impetigo

Exclude until appropriate treatment has commenced. Sores on exposed surfaces must be covered with a watertight dressing

Not excluded

Influenza and influenza like

illnesses

Exclusion is not necessary

Not excluded

Leprosy

Exclude until approval to return has been given by an appropriate health authority

Not excluded

Measles

Exclude for at least four days after onset of rash

Immunised contacts not excluded. Unimmunised contacts should be excluded

Until 14 days after the first day if appearance of rash in the last case. If unimmunised contacts are vaccinated within 72 hours of their first contact with the first case they may return to school

Meningitis (bacterial)

Exclude until well

Not excluded

Meningococcal infection

Exclude until adequate carrier eradication therapy has been completed

Not excluded if receiving rifampicin

Molluscum contagiosum

Exclusion not necessary

Not excluded

Parvovirus (erythema

infectiosum, fifth disease)

Exclusion not necessary

Not excluded

Poliomyelitis

Exclude for at least 14 days from onset. Readmit after receiving medical certificate of

recovery

Not excluded

Ringworm, scabies,

pediculosis (lice), trachoma

Re-admit the day after appropriate treatment has commenced

Not excluded

Rubella (german measles)

Exclude until fully recovered or for at least four days after the onset of rash

Not excluded

Salmonella, Shigella

Exclude until diarrhea ceases

Not excluded

Streptococcal infection

(including scarlet fever)

Exclude until the child has received antibiotic treatment for at least 24 hours and the person feels well

Not excluded

Tuberculosis

Exclude until a medical certificate from an appropriate health authority is received

Not excluded

Whooping cough

Exclude the child for five days after starting antibiotic treatment

Exclude unimmunised household contacts

aged less than 7 years for 14 days afterthe last exposure to infection or until they

Have taken five days of a 14-day course of antibiotics. (Exclude close child care

Contacts until they have commenced antibiotics.)

Worms (intestinal)

Exclude if diarrhoea present

Not excluded
NOTE: The NHMRC recommends that children who are physically unwell should be excluded from attending school, preschool and child care centres and services.
Immunisation
Parents are encouraged to have their children immunised in accordance with the government recommended schedules. The Law requires parents of all children enrolling in child care to provide documented evidence of the child's immunisation status.
Immunisation is not compulsory. However, in the event of an outbreak of a vaccine preventable disease, unimmunised children will be required to remain at home for the duration of the outbreak for their own protection.
Medication
By Law, Educators are not permitted to administer any medication without written permission from the child's parent. This includes paracetamol and cough mixtures.
Over the counter medicines (e.g. Panadol, Herbal medicine) cannot be administered without a Doctors (General Practitioner) Certificate stating time and dosage. Only prescribed medicines can be administered by the Educator. In the case of an emergency, once parent permission has been gained.
An Authorisation to administer medication' form must be completed by the parent each day that a child requires medication. The Educator will provide this form. In the case of permanent prescribed medication, one form signed at commencement of care, will be sufficient. A special note will be on the child's file at the Coordination Unit and in the Educator's records.
Sun Safety
The Victorian Cancer Council recommends that babies never be exposed to direct sun; nor should sunscreen be applied. As little as 10 minutes of direct exposure to sunlight is dangerous for young babies, the need to apply sunscreen should not arise.
Protecting infants over 12 months of age
Avoid sun exposure between the hours of 11am and 3pm and 10am and 2pm during daylight savings;
When children are outside, ensure they wear protective clothing such as a wide brimmed hat that protects face, neck and ears and a shirt with a collar;
Apply a broad spectrum, 30+ SPF sunscreen to exposed areas such as arms, hands, noses and lips for children over 12 months;
Remember that even on cloudy days the sun rays can penetrate and cause damage;
Sunglasses are recommended for children outdoors to prevent eye damage in later years.
Nutrition for Children in Care
Ignite Minds Family Day Care Pty. Ltd. Service promotes the provision of food that provides children in Family Day Care with a safe and nutritious diet.
Educators are to encourage parents to provide food and drinks that are nutritious, adequate in quantity, varied, offered at frequent intervals, appropriate to the developmental needs of the child; special dietary needs are met and are appropriate to the culture and religion of the child. It is important when providing food that parents take into account the length of the child's day in care.
Drinking water should be available at all times. Children are encouraged to drink water instead of juices.
Fruit Juice, cordial and fizzy drinks will not be offered to children
Parent Participation
Ignite Minds Family Day Care Pty. Ltd. values and encourages parent participation in all aspects of the service.
Parents are kept informed about the service through information booklets, access to scheme policies and procedures and regular newsletters;
The scheme invites parents to contribute ideas and suggestions for playgroup and children's activities. Parents are also encouraged to comment on the operation of the scheme and make any suggestions for improvement in service quality; and
Regular surveys are undertaken inviting feedback from parents on all aspects of the service.
Programming
Educators are required to plan a daily program of activities for children in their care and are encouraged to invite families to view their program and give feedback. Having planned activities helps to ensure that a child's time in care is stimulating and enjoyable. It is also helpful for the Educator in that it provides some structure to the day and helps to keep children interested and involved. Programming also enables parents to see and understand how their children spend their time in care.
Programs for children should include a range of experiences and activities covering areas such as craft and art, language and stories, music and movement, fine and gross motor skills. Activities should be appropriate to the age, developmental stage and learning needs of children. Suitable play material and equipment should be available and should be easy for children to access. Children should have the opportunity to freely choose their play activities. Outings to visit the park, library or to take walks to explore nature and the local community are also valuable in a weekly program.
Each child in care needs to be treated as an individual and will be provided with a program which meets his or her development and emotional needs.
Television
Television can be a useful tool if used correctly. However, television should not be used as a primary child care activity for long periods of time, and careful consideration needs to be given to which programs are appropriate. The recommended viewing time is not more than ½ hour per day (this includes television at home). Children need participation with direction from adults during television or video viewing.
Educators have an obligation to provide other activities for children besides television and will not provide television viewing opportunities during care for your child.
Social Justice
Ignite Minds Family Day Care Pty.Ltd. believes in offering children and families an inclusive program based on social justice principles. These are reflected through an open environment where alternative perspectives, values, beliefs, lifestyles and culture are respected and people are fully accepted.