Marketing Support for Educators
As part of our service to Educators, at Ignite Minds, we offer marketing support.
We have outlined a few things below:
How we can help
- Run paid and organic ads across facebook and instagram
- Create a flier for you to share in your networks
- Update Ignite Minds Educator page, with your new flier so that your profile stands out
Call Erin Kostopulos - Marketing Manager to set this up.
What you need to do
- Make sure your vacancy list is up to date on the Ignite Minds website (this is emailed to interested families every Tuesday)
- Create a list of your strengths and experience, so that we may update your Ignite Minds profile and use the information to provide in advertising
- Print out your fliers that we create and take them to local businesses to put on their notice boards. For Example : libraries, maternal & child health nurse, Playgroups, Toy libraries, local cafes, supermarkets/green grocer
- You need to share the flier i created for you in Facebook Groups. (I cannot do this for you). Here is an example of a group to promote your business in
https://www.facebook.com/groups/333608536834442/
- Point other listings to your Ignite Minds website eg: Local Council, business directories, Care for Kids, personal web pages.
- Share your Ignite Minds listing by copying the link to social media feeds (or use the link we create and provide you in your flier)
Remember, this is your business and we will help in any way we can. However, you will need to promote your business as well.
We are a support network for you and your success is our success. We do suggest that you create a facebook page for your business, as we are of a digital age now. If you need any further assistance in this area, please call and speak to Erin Kostopulos our Marketing Manager.
Here are some examples of Facebook Ads: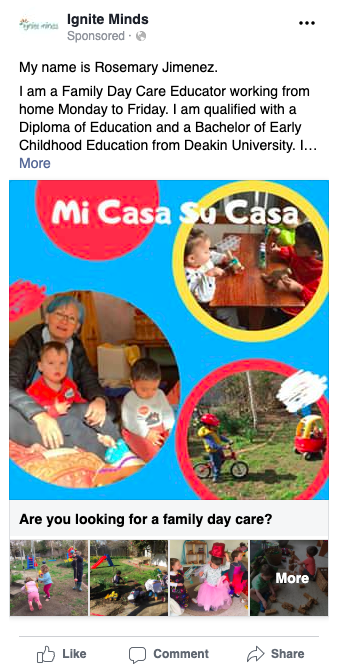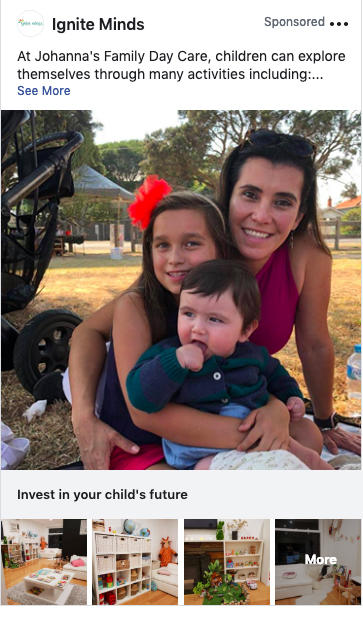 Here are some examples of fliers: